If you have even a passing interest in civil defence and preparations for nuclear attack on the UK, you'll quickly come across ROC posts.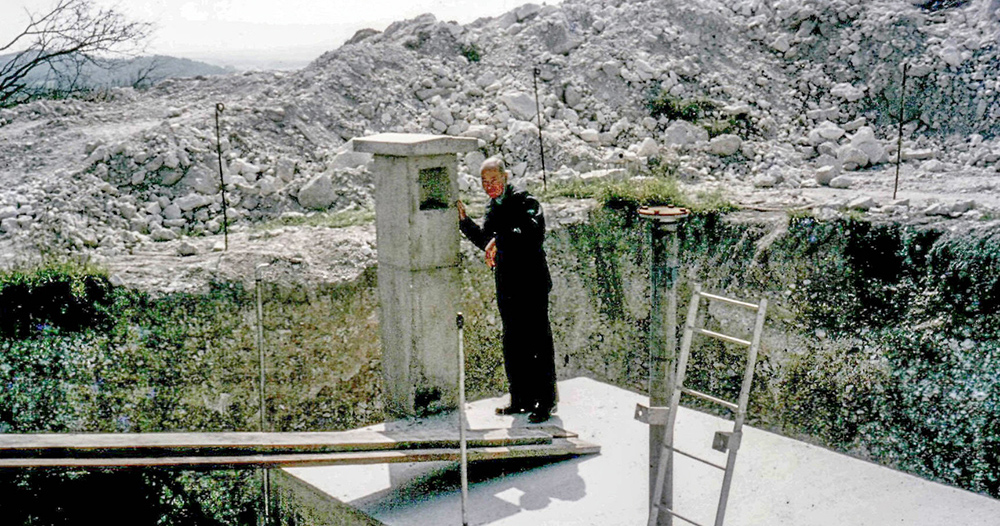 These are small, three-person bunkers, built by the government in the 1950s, and formerly manned by members of the Royal Observer Corps (ROC).
Known as 'observers', the mission of these civilian volunteers was to go to their monitoring post when nuclear attack was imminent, and detect and report the direction and power of any bomb blasts. Readings from several posts could be taken together to triangulate the precise location where a nuclear weapon had hit.
Long-lost ROC post
At one time, these tiny bunkers were dotted in a grid pattern across the landscape of the UK: by 1968, more than 1,500 had been constructed. However, many have now been lost – ploughed back into the land by the farmers on whose land they were built. (Others, like those at Portadown and Skelmorlie, have been restored and you can visit them for yourself on open days.)
I was recently lucky enough to come across a series of photos taken of the construction of a long-lost ROC post, the one at Hogs Back, near Guildford in Surrey. Some of these were featured in Mark Dalton's excellent book ROC Underground Monitoring Posts but it was great to see the full set, which tells the story of how the post was built.

The post was part of the ROC's No. 2 Group (Horsham). The post was opened in August 1957, on the site of an earlier post (presumably an Orlit post). The bunker was closed in October 1968, and was subsequently demolished.
Here are some of the photos showing how one of these tiny nuclear bunkers was built.
You can also view the entry for Hogs Back on the Subterranea Britannica website.
Looking for more?
My book, Nuclear War in the UK (Four Corners Books, 2019) is packed with images of British public information campaigns, restricted documents, propaganda and protest spanning the length of the Cold War.
It also tells the story of how successive UK governments tried to explain the threat of nuclear attack to the public. It costs just £10 – find out more here.
Don't forget you can also follow me on Twitter – @coldwaruk – to get extra bits and pieces, as well as being the first to know when I post something new here on the blog.