Leeds Postcards was founded in 1979, with the intention of using postcards "as a political tool and agent for change".
They quickly became well-known, producing some iconic work with activist groups such as the Medical Campaign Against Nuclear Weapons (MCANW) and CND branches across the country, and artists including Peter Kennard and Steve Bell. They are still publishing postcards today.
Throughout the 1980s, Leeds Postcards published a number of cards satirising the threat of nuclear war, and celebrating the movement against the bomb, which I'm sharing here (with their permission). I've quoted the text from the back of the postcards for some context, as well as the artist and date, where known.
Greetings from Nuclear Free Leeds, unknown artist, 1981
On 30 July 1980 Leeds City Council adopted a resolution from Councillor Michael McGowan which expressed grave concern at the build up of nuclear weapons and agreed to contact other cities about action against the nuclear threat.

On 24 June 1981 Leeds became a Nuclear Free Zone. the City Council promotes peace education and peace exhibitions, and published Leeds and the Bomb to inform the public of the effects of a nuclear strike on Leeds.
Leeds Postcards had a national (or international) outlook; their name came from the fact that they were based in Leeds. This postcard is one of the few that is actually about Leeds.
One of the growing number of 'Nuclear Free' local authorities at this time, Leeds City Council was particularly active in publishing booklets and pamphlets such as Leeds and the Bomb, Leeds and Bradford Under a Cloud and Hazards of Nuclear Transport. I'll cover these in future blog posts.
War Game by Ray Lowry, pre-1985
Peter Watkins' film The War Game was made for TV in the 1960s but never shown on BBC. In the 1980s it is still being shown by Peace groups to powerful effect.

For more details of the appeal to raise funds for an updated version, or to enquire about hiring the film, send to CND, 11 Goodwin Street, London N4 3HQ
The BBC famously refused to show Peter Watkins' 1965 television drama The War Game, filmed for their Wednesday Play series, on the basis that it was "too horrifying for the medium of broadcasting". Times changed – it was finally broadcast in 1985, and you can now watch it at your leisure on BBC iPlayer.
The artist, Ray Lowry, was a cartoonist and satirist who worked with publications including Private Eye, Punch and the Guardian.
Service as Usual by Leon Kuhn
Produced for West Midlands CND, this card refers to the Women's Royal Voluntary Service (WRVS), whose 'One-in-Five' programme trained women to know what to do if the Soviet Union attacked the UK.
Leon Kuhn was a political cartoonist who continued to work with anti-war organisations, such as the Stop the War Coalition, until his death in 2013.
Government of the bunker… by George Brown, early 1980s
Sub Regional HQs are given total powers in 'Home Defence' planning. Commanded by a Commissioner, with no representation from any elected body, their primary purpose is control, rather than shelter.

'Home Defence' as practised in Operation Hard Rock (late 1982) is concerned with civilian disturbance, within or without the context of nuclear war.

For more information consult the CND pamphlets and information packs available from CND Sales, 227 Seven Sisters Road, London N4.
Part of a series about nuclear technology in Britain, this postcard shows the approximate locations of major bunkers around the UK.
"Hard Rock" was a major exercise carried out in 1982 to test Britain's preparedness for war; it was countered by CND's 'Hard Luck', which demonstrated that many of the government's planning assumptions were optimistic at best.
Firth of Clyde photomontage by Peter Kennard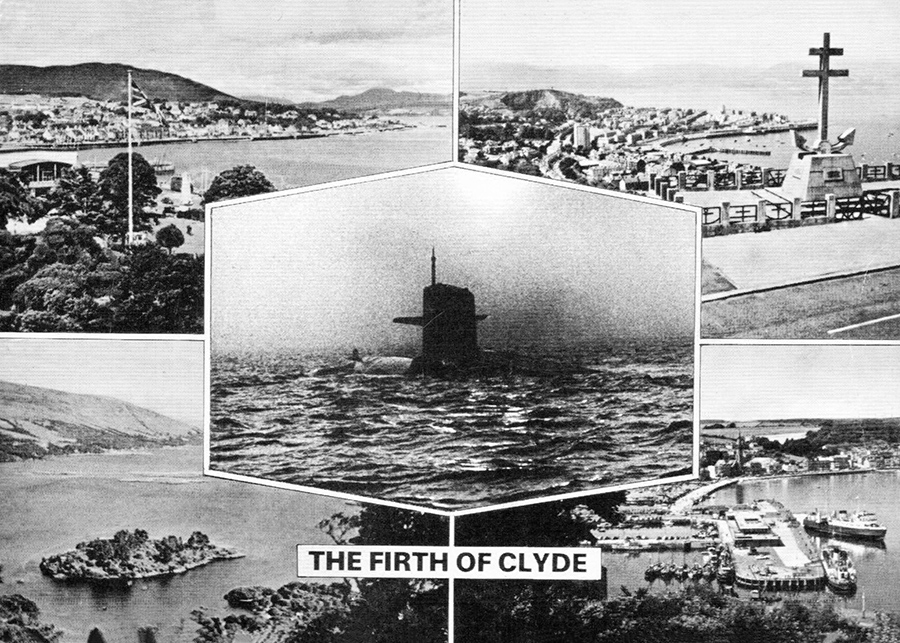 Europe's largest nuclear arsenal is situated on the Firth of Clyde at Faslane, Glen Douglas and the Holy Loch. Here are based Britain's 4 Polaris submarines (with a firepower greater than the entire weight of bombs dropped in World War 2) along with 10 American Polaris and 4 American Poseidon submarines.

Scottish Campaign for Nuclear Disarmament – 3rd floor, 420 Saucluchall Street, Glasgow G2 3JD
This postcard subverts the 'Wish You Were Here'-style holiday postcard with photos of various military installations around the Firth of Clyde. Peter Kennard is an artist well-known for his anti-war photomontages, several of which became iconic in the movement against nuclear weapons in the 1980s.
Nuclearisation of Scotland by Simon Ransome, late 1980s
1960s: American nuclear submarines come to Holy
Loch

1970s: British Polaris nuclear equipped with
Chevaline warheads

1980s: NATO committed to sea-launched Cruise
missiles. Large scale perparations for Trident.

1990s: Trident supmarines will be deployed unless
we stop them!
Coming right at the end of the Cold War, this design was created and illustrated by Simon Ransome for the Northern Friends Peace Board and Peace House.
Now read on…
Many thanks to Leeds Postcards for letting me share these fantastic postcards.
If you'd like to find out more about Leeds Postcards, check out this recently-published official history, which is richly-illustrated with classic designs.
And they're still going strong – visit the Leeds Postcards website to see their latest work.