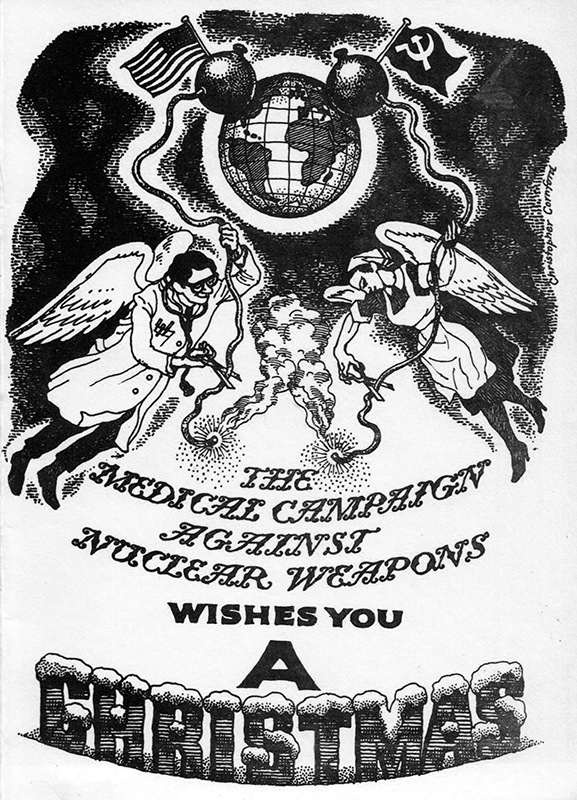 The Medical Campaign Against Nuclear Weapons (MCANW) was formed in 1980 as an organisation for medical professionals concerned by nuclear weapons.
This Christmas card is at once gloomy (wishing you, as it does, 'A Christmas') and optimistic, portraying healthcare workers cutting the fuses on both sides of bombs on both sides of the Iron Curtain.
The card was designed by Professor Christopher Cornford, a highly-accomplished artist, writer and active CND member who designed posters and drew for the peace movement.
MCANW merged with the Medical Association for the Prevention of War (MAPW) in 1992 to form Medical Action for Global Security, or Medact. Today, they focus on health, peace and security, economic justice, the climate and human rights. Medact's (and MCANW's) archives are looked after by the Wellcome Collection in London.
Merry Christmas everyone!
Looking for more?
My book, Nuclear War in the UK (Four Corners Books, 2019) is packed with images of British public information campaigns, restricted documents, propaganda and protest spanning the length of the Cold War.
It also tells the story of how successive UK governments tried to explain the threat of nuclear attack to the public. It costs just £10 – find out more here.
Don't forget you can also follow me on Twitter – @coldwaruk – to get extra bits and pieces, as well as being the first to know when I post something new here on the blog.